Supernatural 'Ship Wars Round 2
Supernatural 'Ship Wars
Hello All You Geek Enthusiasts and Nerd Aficionados
Which Supernatural 'Ship is Your Favorite?
So Supernatural 'ship wars Round 1 went by, and some ships took off and some went into a dogfight. It was so fun engaging with all of you over the past week. And so Now I bring you Round 2, pitting the winners from last week up against each other. So here are the Round 2 contestants:
Bobby/Ellen VS. Charlie/Dorothy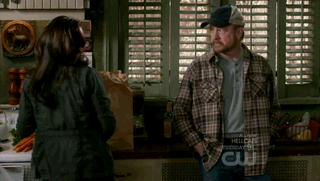 So the admittedly adorable pairing of grumpy Bobby with no nonsense Ellen beat out Bobby/Jody.  It's not surprising really, that people waned to see more of these 2. They had the chemistry, they had the heart and I wish to God they had gotten more than 1 episode.
Charlie/Dorothy narrowly beat out the hunter husband pairing of Jesse/Cesar. I think this was a testament to how much people miss Charlie. Charlie had so much confidence and charisma she really sold the potentiality that was this relationship. I would still take a Charlie?Dorothy adventures in Oz miniseries.
Sam/Eileen Vs. Sam/Jess
Sam and Eileen may not have gotten the ending they deserved, but based on fan reaction it is clear that people love them. They easily took down the vintage nostalgia that was Sam/Madison. I think it is fair to say that Sam has scored some solid partners over the course of the show.
In the battle of the original 'ship Sam and Jess edged out John and Mary. The Sam love is strong in this fandom. If that shocks anyone then I will be shocked. Even the power of Matt Cohen has a hard time beating Sam Winchester.
Dean/Cas Vs. Dean/Baby
I'm not even going to lie it was sweet to see this 'ship kick Cas/Meg ass. I am small and petty that way. They are my favorite, whether I saw it coming or not. It is probably the most frustrating will they wont they that exists currently on TV.
Dean/Baby is the constant of Supernatural. Established in the pilot it is the thing that Dean treasures the most. Maybe an unhealthy obsession to some, I say Dean is the Doctor and Baby is his Tardis.
Like, Follow, Share, & Subscribe
So I hope everyone has fun with this poll. Round 2 will run for 1 week and then at the end I will run the top 3 against each other. Everyone be kind to each other and please if I left people out, which let's face it OF COURSE I did haha, let me know in the comments below who should be there and perhaps I will do a new 'ship war with people you nominate.
Remember, don't forget to comment on your favorite author's work. It encourages them to provide you with more lessons in Nerdology! Remember to follow Malice-Corp on twitter. You can follow Malice-Corp on Facebook. Please check out our YouTube channel and subscribe! Thank you as always for your support.
-SuperwhovianFreak Out -Contributor
Twitter – @SuperwhovianNut
Instagram – SuperwhovianFreak