Nerd Fight: Which Previous Winner Should Be Made Into A Video Game?
What Up all my fellow geek enthusiasts and nerd aficionados! A big hello from all of your friends here at Malice-Corp.
This week's Nerd Fight will be a little different than normal. There are two parts to this week's Nerd Fight. First, we will have a poll and the contestants will be all of our previous Nerd Fight winners. You will vote for which winner you would like to see have its own unique video game created for it. Because this week is E3, we wanted to put a video game spin on the fight. So, you will vote for which winner you want to see made into a new video game.
The second part of the poll will be for you to be creative and pitch your video game ideas for the previous winners in the comments below. We had some ideas for games during our last Podcast if you need any inspiration. For example, BCON pitched a Ketch video game called "Ketch Me If You Can" which would be a Grand Theft Auto style game. So, give us your best pitch and let us know you're ideas also on Twitter with #MalicePitch and #NerdFightE3. The crew here will pick the ideas they like best and will honor our fans with an article taking about the best game ideas. So, let us reintroduce you to your contestants.
Arthur Ketch-
A true psychopath, Ketch wrecked havoc on the American hunters. He was a brutal mercenary, tough, intelligent, and sneaky. He was brilliantly played by David Haydn-Jones. A character like Ketch opens up a world of ideas for Video Games. He is literally a character that can survive and adapt to any world you put him in. And, when he wants to pile on the charm to smooth his way? Watch out you're all in Trouble.
Spike- 
It's fair to say Spike had the biggest 'journey' of anyone on the show. He met his match with Buffy, unable to defeat her with the power of her family and friends behind her. Spike at his core was not a bad guy, he was just a brawler looking for a good fight. He seeks and gets his soul returned in season 6 and in season 7 sacrifices himself to save the world. Spike is a character that would fit into many Video Game worlds, and I look forward to seeing what you would come up with.
Iris West-

Charming and beautiful, Iris wants nothing more than to help and care for those around her. She's highly intuitive and has an innate curiosity. After becoming a reporter under Mason Bridge, she becomes even more so in investigating the mysterious circumstances surrounding Harrison Wells and S.T.A.R. Labs. Iris can be quite stubborn and holds true to her morals, despite what others may want of her. Iris is also a bit of a risk taker and more often doesn't hesitate to take action when need be. Can Iris now be the star of her own video game?
Supernatural-
This haunting series follows the journeys of Sam and Dean Winchester. After losing their mother to a supernatural force, the brothers were raised by their father as soldiers who track mysterious
and demonic creatures.
The longest running show ever on the CW, this show features a compelling cast and amazing storytelling. This Show could definitely become a video game, The Family business can handle any media.
Boba Fett-
The Bounty hunter you both Love and Hate. So much more compelling then the movies made him out to be. Can he handle being the Star of his own Video Game?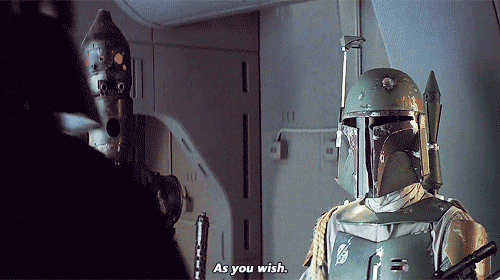 Castiel-
Brought to life by Misha Collins, Cas is our beloved angel in a trench coat. He may be awkward and dorky, and pop culture references fly over his head, but he is loyal and always tries to do the right thing. Cas changed the course of the show when he was brought on in Season 4. Uriel may have been deemed the funniest angel in the Garrison, but Cas wins the best Angel in Garrison hands down. In this season, the Sassy Cas moments are the best thing ever. Can Castiel take on the virtual world and hang tough in his own video game?
Captain Jack- 
Played by John Barrowman, he was a Time Agent and con man from the 51st Century who became an associate and companion of the Ninth and Tenth Doctors. He was killed by a Dalek and revived by Rose Tyler as the Bad Wolf and accidentally transformed into a man who cannot die. He eventually goes on to form Torchwood, an agency dedicated to eliminating alien threats on Earth. Jack seems fully capable of being the star in his own game.
Kill Bill-
A former assassin, known simply as The Bride, wakes from a coma four years after her jealous ex-lover Bill attempts to murder her on her wedding day. Fueled by an insatiable desire for revenge, she vows to get even with every person who contributed to the loss of her
unborn child, her entire wedding party, and four years of her life.
After devising a hit list, The Bride sets off on her quest, enduring unspeakable injury and unscrupulous enemies. I foresee some interesting first person slasher ideas for this pick.
Merlin-
The granddaddy of all wizards. Merlin has been in existence since c. 1136. Known mainly for the Arthurian legends, Merlin is one of King Author's biggest confidants and the earliest known version of wizardry in pop culture. Can he survive being taken out of Arthurian times and plopped into the 21st Century? You tell us.
Like, Follow, Share, & Subscribe
Remember, don't forget to comment on your favorite author's work. It encourages them to provide you with more lessons in Nerdology! Make sure you give us your video game #MalicePitch in the comments below. Remember to follow Malice-Corp on twitter. You can follow Malice-Corp on Facebook. Please check out our YouTube channel and subscribe! Thank you as always for your support.
– BCON, Editor @BCON_MaliceCorp
– SuperWhovianFreak, Contributor