Nerd Fight Poll Results: Best CW Villain You Love/Hate
Results for Best CW Villain You Hate to Love or Love to Hate
So this was a wild week for the Nerd Fight Poll. It was a lot of fun to watch the very meta Supernatural Writers pick duke it out with Arthur Ketch. There were a lot of other great picks in this poll as well. Overall the Twitter interaction the fans were having amongst the fandoms made for some very entertaining moments. It is with a very happy heart though to see the Ketchlings come out in force to promote their love for David Haydn Jones. And it is well deserved love he garners. He was the lead charger this week and it is clear that he has a great regard for his character and his fans. So lets go over the contestants and see where it all shook up at the end.
Last Place:
Killer Frost (ICZorro):
So this was the second week in a row Killer Frost was doing battle in the nerd fight. However, i think that fact that she pulled herself back into the heroes side in the finale hurt her in the votes. At the heart we want Killer Frost to come back to the side of good and be part of Team Flash once again.
6th Place:
Eobard Thawne (Fans):
So the fans pick for the week I think got overshadowed by some of the other picks on the list. Also the Legends of Tomorrow finale happened way before the other finales so he wasn't as fresh in people's mind. And I think we can all agree it was so very satisfying to see him wiped out of the Timeline for good.
5th Place:
Deathstroke (Mest5150)
This was a better pick then the poll numbers alluded too. Manu Bennett just killed his return to Arrow. Even though he seems like he might be on the path to redemption, he is still a BAMF. It is killing me not knowing if he survived the bombing of Lian Yu.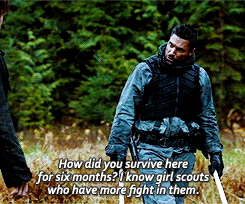 4th Place:
Adrian Chase aka Prometheus (Fans)
The fans second pick this week did better than their other one. If there was ever a villain to steal the line Mark Sheppard tried to insert into the finale of Supernatural it's this guy. "Even when I lose, I Win" sums up Chase and Arrow Season 5 to a T. He was willing to kill himself just to screw over Oliver at the end. He may have looked like a 90s reject according to Jack Malice, but no one can say he wasn't driven to his cause.
3rd Place:
Malcolm Merlyn (BCon)
Despite John Barrowman leaving the arrow verse, he still has a very passionate fanbase. No matter what John does in the future his fans will follow him anywhere. His fans are some of our strongest twitter supporters and they are always a delight to interact with week in and week out. Malcolm may have started a villain on arrow but if he did indeed Die on Lian Yu he went out a hero.
2nd Place:
Supernatural Writers (Jack Malice):
So this pick actually started off as kind of a joke. But man did it just take off running, leading the poll for almost 2 days. People on Twitter and reddit loved it, they saw it as a nod to the show itself going meta. It also gave them a healthy way to vent their frustrations at some of the plot holes the finale presented to us. And also let them vent their frustrations for killing favored characters off screen. It led to some amazing twitter conversations, so thanks to everyone for joining in.
1st Place:
Arthur Ketch (SuperwhovianFreak)
Finally, we come to first place. #SketchyKetchy as I have dubbed him on twitter is our champion. He came out of the gate swinging, thanks to David Haydn-Jones tweeting the poll almost as soon as I tweeted it out. His fans then jumped on it and stuck with him all week long and they played a huge part in this victory. I think a total of 90 different people tweeted and retweeted lending to an amazing vote total of 857. David Haydn-Jones is an immensely talented actor who made you love his character by delivering rock solid performances week after week. A Cold, Calculating, Brutal and Diabolical sociopath is not someone you usually hate to see dead. But that is the power of David, he truly inspires the love the fans have for him. Personally I hope to see him back in season 13 leading Hell. It could happen!!
 Special Thanks
Here are all the wonderful people that re-tweeted or liked anything having to do with Ketch in the poll:
@DavidHaydnJones- The man started it all!!
DHJKetchlings, @BohoWitch, @gaby_guzano, @Sara_hunderson, @damaplantagenet, @haringkje, @oolervay, @FEFE72, @Michelle_TJ, @FabeSunny, @patri11275, @RchristinaO_34, @tankEWinchester, @EmAcklesAddict, @GnsAvila, @JSH_SPN, @cluelessgold, @givemepie360, @Lou_ell_ah, @BlueDrumMajor,@MaliceCast, @Ritz01100, @_samlicker81_, @CJTheMartian, @waywardaf, @DonnaY1legwondr, @babybutterfly0, @AngieRoday, @rachielDestiel, @SheilaColley, @Vivivello, @RuthHill74, @Tgreer1970, @momnesiac, @lesleybear96, @debbiejayneuk, @gabby_spnatural, @monarchmish, @TVfan201, @Dmsilvis, @olithegayy, @Taylor_Dean15, @esztererdei, @jarpdxs, @dwscott19692, @Heathen_burrito, @liquidAshes, @shelly_4213, @Lilithivyangel, @HamlinGirl95, @DestielLove1, @burritoBethany, @valgreen660, @heike251, @Teresakwitzel, @dylansp76290060, @MamaPapaWin, @datdemxn, @celticlotus, @AKF_MishaDunbar, @anunnaki1106, @castieldreamer, @squirrelMoose59, @stephlee77, @heyAcebutt, @Rhoda_Night, @adamsangel1, @MissStory82, @Mamabug1981, @CasLass99, @dragon06, and @spacecowgyrl
The support was greatly appreciated, and Ketch and David won because of it. Thank you to all the Ketchlings out there and any others that helped support the poll.
Like, follow, share, and subscribe
I hope everyone had fun with the poll. Next weeks Nerd Fight is Favorite Female Comic Book Hero/Anti-Hero or Villain. This covers Comics, and the TV Shows/Movies they spawned. This is to celebrate the release of Wonder Woman.
If you haven't caught this weeks Youtube MaliceCast Podcast please do so and remember to like and subscribe. Please leave any thoughts about the above items below in the comments. Again, we thank you. We hope to see you in the Nerd Fight again starting on 6/3/17 at 12:00:01 AM PST.
-SuperwhovianFreak Out -Contributer
Twitter – @SuperwhovianNut
Instagram – SuperwhovianFreak