Nerd Fight Poll: Best Beard Pop Culture Media 2018
Hello all you Geek Enthusiasts and Nerd Aficionados!
Thanks to everyone who got out and voted the last 2 weeks in the Nerd Fight, making Schitt's Creek the winner for Most Improved show. We love and adore all your participation. Here at the All Nerd Podcast, our boys love to show off their epic beards. Beards are becoming a popular fashion trend, so we here want to know what you think the best beard was to grace our screens in 2018.
The competition looks to be fierce the next 2 weeks. Will Aquaman drown the competition, or will it be a silent but deadly screech from Krasinski to slay all? Who knows, but here's why each candidate deserves a spot on this list:
1. Aquaman (Jason Mamoa)
The second time this beard makes it onto our list of Nerd Fight contenders. And let me just say there is no bad look Mamoa can sport, but this beard is one of my favorites. This beard is so epic it has prompted sites to post how to grow and care for your own aquaman beard. This beard is as wild as the spirit of Aquaman, and will never be contained.
2. Captain America (Chris Evans)
Why was Cap's beard the best thing about Infinity Wars you may ask, earning a spot in this weeks Nerd Fight? Well 1, even Thor was jealous of it and that can only be a win. The beard lit twitter on fire, trending on the site for days after the movie release. It has also broken hearts, with twitter crying out that the endgame trailer features a freshly shaved Cap. I for one like this as a metaphor. In a way, Cap's beard was Infinity Wars, and shaving it off for End Game is a representation of shaking off our grief and fighting to fix the world.
3. David Letterman
Breaking back into television for his first significant role since leaving the tonight show, it's hard to know what is better. Is it his Netflix show,
My Next Guest Needs No Introduction or is it his beard? What I do know is he is totally on his way to auditioning for the next Santa Clause movie. It's stately, dignified and completely holds up to the enormous personality that is David.
4. Kratos (God of War)
Even though this beard comes from a video game, it is clearly too majestic to leave off the List. They wanted to give Kratos a more rugged look for the new game, and according to the designers were aiming for a linebacker hiatus type beard. According to them he looks more like Clint Eastwood in Unforgiven. i think we can all agree it works, I mean who doesn't want to sport a beard that smells like Pine and fresh killed Trolls.
5. Lee Abbott (John Krasinski)
If you look at Twitter, this beard was trending for a while as "A gift to all Mankind." This beard encapsulates mountain man ruggedness, and perfectly fits the dystopian bleakness that is the world they live in. For a movie that relies so much on visual impact to tell the tale, this beard definitely pack a punch. It's best said by these wise words on twitter:
"If living in a soundless dystopia meant John Krasinski would have a beard all the time, sign me up. "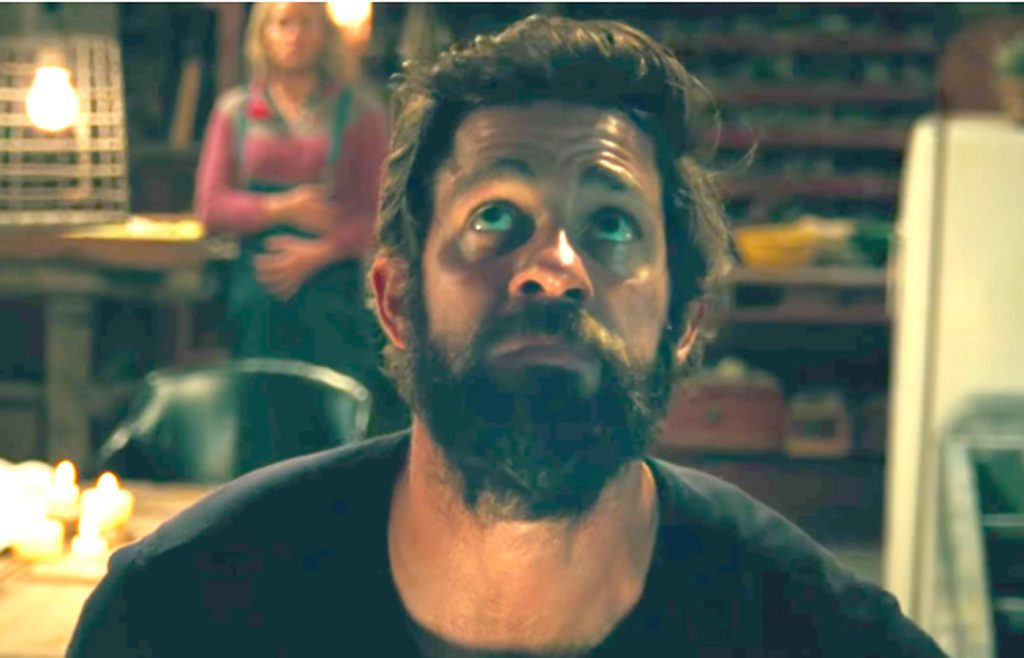 6. Sam Winchester (Jared Padalecki)
Treasure this moment Supernatural fans, for we will probably never get to see Sam sporting a beard on the show again. The only beard on this list who has it's own entry on a wiki page, the fans have hereby dubbed this the "Grief Beard." Sam, who has fallen into a state of depression with Dean getting hijacked by an archangel, has fallen out of his grooming habits. The beard represents his mental state that nothing matters as much as finding his brother and training the world of Apocalypse hunters. So thanks Jensen Ackles for fighting for the Grief Beard, the fandom blesses you.
Time To Vote
There you have it folks, those are this week's combatants. Vote for which beard above really tickles your fancy. And if you feel another is more worthy tell us below in the comments. Also, if you want to see why we chose who we did then make sure to listen to this week's upcoming podcast. You can find it either at Podcasts.com, Stitcher, Itunes, Spotify, Google Play, and YouTube. Heck, while your there you can even subscribe and that way you'll know when our next podcast is airing. Voting goes until March 8th, 11:59:59 PM PST. So, don't dilly dally. Get your vote in and help give someone on the podcast bragging rights for this week.