Nerd Fight: Favorite Game of Thrones Character
Nerd Fight: Favorite Game of Thrones Character
Hello all you Geek Enthusiasts and Nerd Aficionados!
We are back with another poll for this week. Last week saw the fight for the best Studio Ghibli film. To honor the coming out of retirement of the brilliant Mr. Miyazaki. A lot of wonderful discussions were had with voters over the last week. All the films represented are true works of art, So thanks to everyone who came out and participated you made the week a lot of fun. This week we herald the end of Game of Thrones Season 7, so we are pitting our favorites against each other.
That being said this may be the hardest week ever for everyone to ONLY pick 1 and on top of that pick the one that stands at the top. I have so many favorites myself it was hard to limit myself to one. I know some of the others had the same problem. Game of Thrones just has SO MANY good characters how DARE you try and limit me to just one! So here are the participants in this week's Nerd Fight:

The leader of the Unsullied, he isn't the first person that comes to mind when people list off their favorite characters. But this past season especially he has really blossomed into a well rounded character. Who doesn't love watching him and Missendei finally get together. And let's face it the actor off camera is fantastic.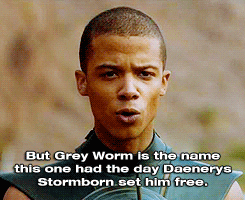 Loyal to a fault. Bullied growing up, she has now completely come into who she is as a person. Renley didn't do many things right, but picking her for his guard was the smartest move he ever made. She kicks some serious ass. I love that she stays true to her oath of defending Arya and Sansa no matter what.
A pint sized bad ass full of vengeance. Arya since the beginning of the show has always done her own thing. She refuses to fit into a mold, and I love that. Even if it causes people grief she refuses to become a traditional "Lady." She really started coming into her own for me traveling with The Hound. Arya Stark, the faceless assassin, cannot wait to see what you bring to season 8.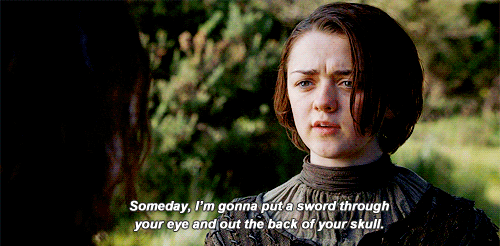 Whose the bitterest man in Westeros…… The bitterest man in Westeros…. It's probably Sandor Clegane. A complicated angry man afraid of fire. His story is intriguing to watch unfold, as he tries to find his purpose in life after being brought back by the lord of light. I will say though the actor does a lot to make this character endearing. The Game of Thrones show is much better with him in it.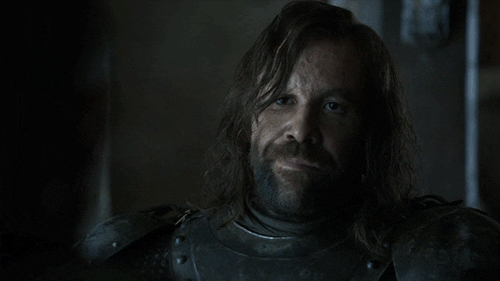 "I drink and I know things." Tyrion is one of the most brilliant characters in Game of Thrones. Underrated and hated by almost everyone, he battles through all the adversity to come out on top. He is smart, funny, calculating and owns the screen whenever he is on it. Peter Dinklage brings this amazing character to life every single episode.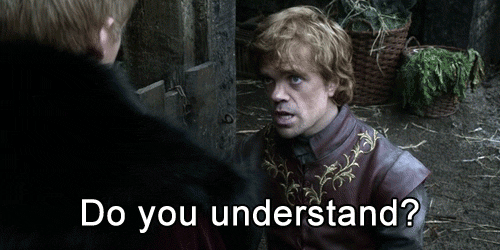 The craziest character in the show. The character I honestly thought was going to be forgotten about. And then it flips on you and he turns out to be the crux of a good chunk of the story. I, like Jon Snow, Know nothing Apparently. He's the closest to Ned Stark's character of all the children, ironic since he isn't Ned's son at all. Not even death can keep this guy down.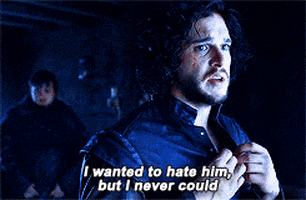 The girl with the most titles of any character in any show. Stormborn, Mother of Dragons, Khaleesi, Breaker of Chains, Rightful Queen of the 7 thrones the list goes on and on. She has lost everyone that mattered to her throughout the series. Hunted her whole life, betrayed by those she cares about, she rises above it all. She is the Queen Westeros needs, and I am anxious to see where she ends up at the end of season 8.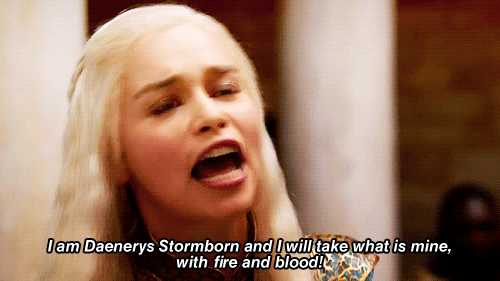 Time to Vote
There you have it folks, those are this week's combatants. Vote for your favorite Game of Thrones character. Also, if you want to see why we chose who we did then make sure to listen to this week's podcast. You can find it either at Podcasts.com or YouTube. Heck, while your there you can even subscribe and that way you'll know when our next podcast is airing.
Finally, if you would like further insights into the characters, click on their name and it will take you to their respective wiki pages. Voting goes until September 15th, 11:59:59 PM PST. So, don't dilly dally. Get your vote in and help give someone on the podcast bragging rights for this week.