Nerd Fight: Best Studio Ghibli Film
Nerd Fight: Best Studio Ghibli Film
Hello all you Geek Enthusiasts and Nerd Aficionados!
We are back with another poll for this week. Last week saw the fight for the best Cartoon Series. Southpark ended up running away with it at the end. Mest5150 can thank all the fans from reddit for the outpouring of love that took it to the top. On each week's podcast the Malice Corp crew will each choose who they want to put in the ring. Winner from the previous weeks poll gets to pick first in the new weeks poll. This week we focus on the brilliance of Hayao Miyazaki and Studio Ghibli.
So,  delving into the wonderful world of Studio Ghibli Anime and We are celebrating Hayao Miyazaki coming out of retirement. This studio has made some of the most well known Anime Movies of our time. In Japan Miyazaki is considered their very own Walt Disney. So check out some of Malice casts favorite movies created by this amazing director.
Probably the most well known and critically acclaimed of hos movies, it's hard to find flaws with this movie. Based on 10-year-old Chihiro and her quest to save her parents who have been turned into giants pigs. This movie has heart, depth, and Chihiro transforms from a scared helpless child to one who ends up saving the day. It's always satisfying to watch a child defeat the evil witch.

If you can get past the maggots that spring up, this movie is amazing. A story about a prince that becomes involved in the struggle between a forest princess and the encroachment of mechanization. It's the Japanese take on Fern Gully, but it was made more for adults then children for sure.
Very much Miyazaki's take on a boy saving the girl movie trope. Sophie has an uneventful life at her late father's hat shop. Her life changes when she befriends wizard Howl, who lives in a magical flying castle. However, the evil Witch of Waste takes issue with their budding relationship. She casts a spell on young Sophie, which ages her prematurely. Now Howl must use all his magical talents to battle the jealous hag and return Sophie to her former youth and beauty. The characters are engaging and it has an amazing cast voicing the characters.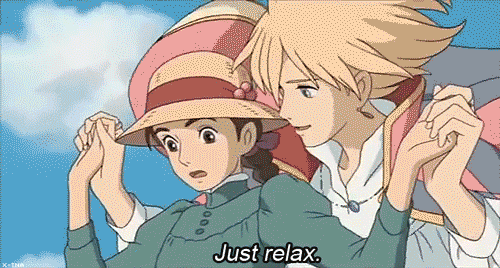 This acclaimed animated tale follows schoolgirl Satsuke and her younger sister, Mei, as they settle into an old country house. They are with their father  and wait for their mother to recover from an illness in an area hospital. As the sisters explore their new home, they encounter and befriend playful spirits in their house and the nearby forest, most notably the massive cuddly creature known as Totoro. I am a huge Lea Solonga fan and love that she is in this movie. Totoro is adorable it's heartwarming and just makes you feel good when watching it.

Another of his more well known films, Kiki delivers the goods. In this anime, 13-year-old Kiki moves to a seaside town with her talking cat, Jiji. She is to spend a year alone, in accordance with her village's tradition for witches in training. After learning to control her broomstick, Kiki sets up a flying courier service and so
on becomes a fixture in the community. But when the insecure young witch begins questioning herself and loses her magic abilities, she must overcome her self-doubt to get her powers back. This was the first one I ever saw personally and it holds a special place in my heart.
When master thief Lupin III discovers that the money he robbed from a casino is counterfeit, he goes to Cagliostro, rumored to be the source of the forgery. There he discovers a beautiful princess, Clarisse, who is being forced to marry the Count. All so the Count can find the legendary treasure of Cagliostro. In order to rescue Clarisse and foil the count, Lupin teams up with his regular adversary, Inspector Zenigata, as well as fellow thief Fujiko Mine. This movie has it all, the romance, the drama, and a bad guy getting foiled by an anti-hero. What more do you need?

This movie is going to give you Little Mermaid feels big time. During a forbidden excursion to see the surface world, a goldfish princess encounters a human boy named Sosuke, who gives her the name Ponyo. Ponyo longs to become human, and as her friendship with Sosuke grows, she becomes more human-like. Ponyo's father brings her back to their ocean kingdom. Ponyo wants to live on the surface so badly that she breaks free, and in the process, spills a collection of magical elixirs that endanger Sosuke's village.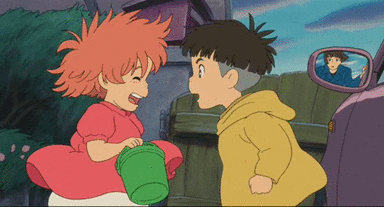 Time to vote
There you have it folks, those are this week's combatants. Vote for your favorite Miyazaki Movie. Also, if you want to see why we chose who we did then make sure to listen to this week's podcast. You can find it either at Podcasts.com or YouTube. Heck, while your there you can even subscribe and that way you'll know when our next podcast is airing.
Finally, if you would like further insights into the movies, click on their name and it will take you to their respective wiki pages. Voting goes until September 1, 11:59:59 PM PST. So, don't dilly dally. Get your vote in and help give someone on the podcast bragging rights for this week.
-SuperwhovianFreak,

Contributor Out
Twitter – @SuperwhovianNut
Instagram – SuperwhovianFreak