Last Weeks Nerd Fight Results: Best CW Show
Hello Out there to all my fellow geeks and nerds from your friends at Malice-Corp
I am dropping in to reveal the winner of last weeks poll. This poll was a massive hit as we pitted our favorite CW shows against each other. This poll managed to top last weeks outstanding numbers by getting just short of 2,000 votes. Cast members from the show got involved as David Haydn–Jones who plays Mr. Ketch on Supernatural showed me some love getting involved in our poll. And Rachel Bloom and Donna Lynne Champlin from Crazy Ex-Girlfriend stepped up to the plate and got actively involved. Overall it was a fun competition that hopefully will continue on into the future.
How The Poll is Determined
As a reminder, the way that we determine who is in the polls is based on the genuine interests of the podcast participants. This isn't just a standard list of the 'Top 10 whatever.' When you watch the podcast you see why each podcast participant picked who they picked. We also have been taking fan votes via the live chat and also through twitter. So speak out during the chats and hit us up on twitter or Facebook before we put the polls live on Sunday morning and we will see you and we will listen. The poll runs until Friday evening and then the winner is announced on the following day.
The Best CW Show Poll Results
So this week saw some interesting shows battling for supremacy amongst CW fans. Looking at the choices on the poll and where everyone finished up may surprise you.
Last Place
NudieRudie's pick from last week, he called it the ultimate dark horse and he could not have been more right. I think he now refers to it as the lame horse that never left the starting gate. I think we can all agree it is an entertaining show despite the lack of love it got in this weeks poll.
7th Place 
ICZorro's pick for the poll surprisingly got no love from voters. I think all of us at malice corp expected Legends to place higher than it did. Apparently the voters disagreed. Maybe ICZorro can convince them to go back in time and give him another shot at victory.
6th Place
Our twitter pick for the week got lots of love from cast member Andrea Navedo, but the no retweeting of the poll from her meant no votes for the show. Better luck in next weeks poll Twitter picks.
5th Place
BCon's pick from last week he had high hopes going in. The Fans just wouldn't give him the love. Maybe he can revive the love for Arrow by stealing the Lazarus Pit from the League of Assassins. We also agree Nancy (@barrowmanfan4ev) all the DC Universe shows should have been higher on the list.
3rd Place
What happened to 4th place you ask? Well this week's poll happened to bring us our very first tied vote. The fan vote from our live podcast iZombie tied with Jack Malice's pick of The Flash. Both shows got some love from @iZombieObsessed who Retweeted the poll for us. Apparently if you sick a zombie on a speedster it keeps them both in check.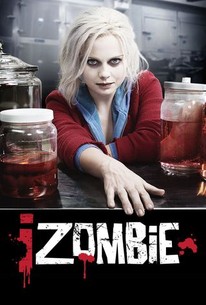 2nd Place
Here is where the poll really exploded. Mest5150 got the twitter Love from Rachel and Donna that kicked him up the rankings higher than most people expected. He also stepped up and did a video recording singing for votes that you all should check out. Sadly despite all the twitter Love his unlikely pick fell short of first place.
The Winner
The fans have spoken and spoken loudly. This weeks winner was our top vote getter yet with 1,080 votes total. My pick, Supernatural, as I fully expected it would slayed all it's competition just like the Winchesters slay their monsters. Having a rich 12 year history to contend with this proves once again that the supernatural fandom is a force to be reckoned with. I am showing all my love for everyone in this fandom who stepped up and backed up my bragging that Supernatural couldn't be beat. Each and everyone of you rock.
So there you nerds have it. Supernatural reigns supreme (as it should!). Our poll coming up for next week will be just as awesome, best Buffy side character. So come one and come all you loyal nerds and join the fight for best Buffy side character!
Much love until next time.
-SuperwhovianFreak Out