Joss Whedon Movies: What's Number 1?
What's the Best Joss Whedon has to Offer?
Good Day to all the Geek Enthusiasts and Nerd Aficionados!
So last week Malice cast brought you how we ranked Joss Whedon's television shows. But seeing how he has a couple movies coming out on the horizon, we thought we would take a stab at ranking his movie projects as well. So here is how the rankings shook out amongst the cast at malice corp.
11. Unlocked
This is Joss' most recent project released, and it's an unfair placement on the list. No one at Malice has actually seen the movie yet. Shame on us I know. This is an emotionally charged short film he directed that dramatizes the realities of life without the women's health organization. This is clearly something he is passionate about, as he took a break tackling the upcoming Batgirl movie to produce this short film.
10. In Your Eyes
A neglected and sheltered housewife shares a metaphysical connection with a charismatic ex-con. This movie boils sown to how conversation can lead to romance, but more than that, it's about how a romantic presence in our lives can make us appear a little bit nutty to the outside world. The movie overall was sweet, and like most Joss projects was well casted and had some good dialogue. The problem was with the ending of the film. Sadly it was predictable, and involves a hastily introduced plot that requires a clichéd race-across-the-airport, and a bizarre action film-like prison escape. 9. The Cabin in the Woods
When five college friends arrive at a remote forest cabin for a little vacation, little do they expect the horrors that await them. One by one, the youths fall victim to backwoods zombies, but there is another factor at play. Though this may seem like a formulaic plot device, it actually extends to a deeper level. Joss called this a "loving hate letter" to horror movies. This could almost be seen as an experiment in writing on the horror genre itself. You could read the lab scientists as directors and writers who are plugging in various story devices to see what the characters will do. In some sense, the Jenkins and Whitford characters represent Whedon and his writing partner Goddard. Overall it was an underrated movie in my opinion.

8. Buffy the Vampire Slayer
The movie that spawned one of the greatest television shows of all time. It had a solid cast, that had decent chemistry throughout. We aren't going to lie though, the show was a lot better. It is unfortunate that a lot of what Joss had originally intended for the movie was rewritten by Donald Sutherland. Fans of the TV show know that Joss can write a powerful woman, so it was frustrating to see his lead dumbed down in the movie. But it was fun, despite all it's flaws and definitely fun to go watch and see how many stars you can spot in one of their first roles.
7. Thor: The Dark World
So this wasn't the greatest offering Marvel has come up with. But it was still chock full of humor and Tom Hiddleston as Loki was amazing. As always the fight scenes were compelling to watch. The parts revolving primarily around Jane though were a little drawn out though. It was still entertaining though. Still, more often than not, "Thor: The Dark World" is more busy than exciting.
6. Much Ado About Nothing (2012)
So if this was up to me and me alone this movie would be much higher up the rankings. This movie had an amazing cast. This was like a Whedonverse whose who, and watching them all do Shakespeare was a real treat.  Amy Acker and Alexis Denisof brought to life flawlessly my favorite Shakespearean couple. There was humor, backstabbing and love triangles galore. Nathan Fillion was amazing as Dogberry. If you haven't watched it yet go forth and watch the amazingness that is this movie.
5. Avengers: Age of Ultron (2015)
This was a good movie, but not as good as the first one. It had the amazing cast still, but it felt rushed at points. It didn't do the greatest job highlighting Ultron or who it was. However it did introduce Scarlett Witch, one of my favorite characters.
4. Doctor Horrible Sing-Along Blog
Joss can write a musical. He proved it with Buffy, he proves it again here. The songs are catchy, and it drives home the moral point at the end of be careful what you wish for. Nathan Fillion, Neil Patrick Harris and Felicia Day had amazing chemistry. He flipped the script making the hero the narcissist you want to lose and the villain you root for. It even spawned an after cast musical, featuring songs about ninja ropes, and NPH and Fillion having a battle off in songs.
3. Captain America: The Winter Soldier (2014)
This movie was one of the best from the Marvel franchise. For featuring Captain America, Mister mild mannered superhero, it was surprisingly dark and gritty.  A brutal conglomeration of deeper character development "The Winter Soldier" is a comic-book movie only in its provenance. With its relentless violence and dark political subtext, this might be the most mature Marvel movie yet.
2. Serenity
A movie that spawned from a cancelled TV show. No power in the verse could stop the firefly fandom in this case. It wrapped up the series fairly well, though the death of beloved Wash seemed unnecessarily cruel to it's fans. Fillion and the rest of the cast was on point. it was chock full of great quotes, mysteries, and heartwarming heroics. And the end fight with River and the reavers was pretty damn epic.

1. The Avengers (2012)
The movie that probably launched Joss Whedon to the top of nerd culture. It had an all star cast, and perfectly balanced all the characters. It was compelling, funny and the start of a great franchise. Seeing all the individual components we had already been introduced too come together to battle Loki it really doesn't get better than that does it? Also let me say that Mark Ruffalo was a very pleasant surprise as Bruce Banner and fit in nicely with the rest of the cast.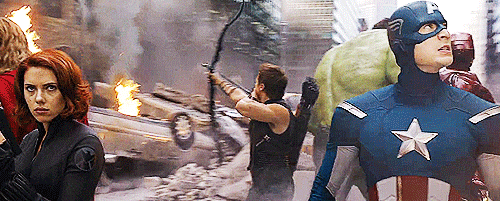 So there you have it. Drop us a line or comment let us know what you all think. Are we spot on or full of crap? Let us know below. Until next time stay nerdy out there.
Like, Follow, Share, and Subscribe
If you haven't caught this weeks Youtube MaliceCast Podcast please do so and remember to like and subscribe. Please leave any thoughts about the above items below in the comments. Again, we thank you.
-SuperwhovianFreak Out -Contributor
Twitter – @SuperwhovianNut
Instagram – SuperwhovianFreak