The Iconic Scarf from Doctor Who
How to Make the Iconic Scarf in a DIY Project
Either in multi-color or red, the 4th doctor's scarf was an integral part of his outfit. Fan legend has it that costume designer James Acheson picked up a load of multi-color wool and asked knitter Begonia Pope to create a scarf, and Pope, perhaps mishearing, used *all* the wool, resulting in a scarf that ran 12 feet long. The mistake was perfect, and suddenly many UK grandmothers were being asked by their grandchildren to recreate their hero's look.
 Following are some brief instructions on how to make the scarf.
Materials Needed
The original scarf was probably somewhat light DK wool and wool blends, but sport, DK and light worsted will work fine. There is no reason to alter the pattern unless you knit rather loosely or quite tightly.
You want to use a worsted weight yarn for this project. Worsted-weight yarn is named for a village called Worstead, England. Worstead was a hub for manufacturing fiber, both yarn and cloth, in the 12th century. Worsted-weight yarn falls into the medium-weight category as defined by the Craft Yarn Council of America. Sometimes when shopping for worsted-weight yarn, you'll find a symbol with the number 4 on the label that matches the Craft Yarn Council's weight system symbol.
The original scarf measured approximately 12 feet (blocked, not including tassels) for its screen debut. Despite the loss of its original grey stripe, it continued to stretch to something around 14 feet for its tenure in Season 12. It must have been around 6 stitches per inch wide and 8 rows per inch long.
I won't recommend a specific needle size. You will find knitting and blocking a swatch in your choice of yarn the best way to determine the right needle size as both your tension on the yarn and the needle size determine the gauge. Take a little time to experiment.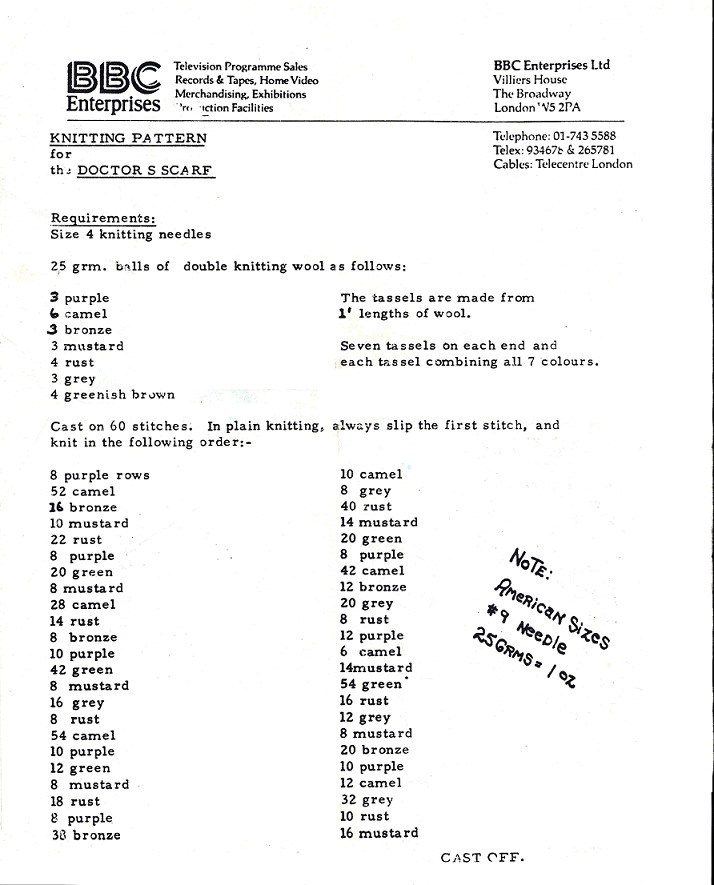 So here in this photo you can see the step by step instructions the BBC has laid out for all you nerdy knitters out there. I hope by posting this now I am inspiring all of you out there to make this for Halloween. And for anyone who does make this We love photos to see your handiwork. So knit up nerders!
-From the Mind of GiaTomcat