Big Little Lies: The Real Truth
Big Little Lies: The Real Truth
Hello all you Geek Enthusiasts and Nerd Aficionados!
So every year when I watch the Emmy's, I always get a plethora of new shows to check out. And this year did not disappoint in giving me some goodies. But none stood out quite as well as HBO's Big Little Lies. I am a HUGE fan of the "who done it" murder mystery genre. And a murder mystery set up where you don't even know who is dead? Not until the final moments of the last episode of the series? Welcome to the world of Big Little Lies. This series takes you on a ride filled with laughter, pain, jealousy and snark, where someone doesn't make it out alive.

What Works?
Everything. Everything about this show was golden. And I rarely ever say that. But I can't even bring it in me to get super nit-picky about anything honestly. I was hooked from the very first episode. The cast, the writing, cinematography, even the soundtrack to the series was amazing. The dialogue was on point, the acting top notch and the chemistry of the cast you want to bottle and make available for everyone. The characters are unique, well written, and even the minor characters are given a rich substance to them that makes you drawn to them. Or hate them as the case may be with some characters.
The Cast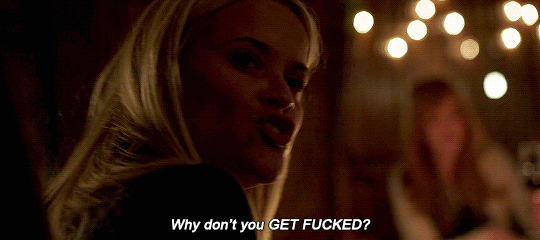 Let's start with the cast. Sometimes having so many huge names can make it seem like people are competing for the spotlight. but when the cast works – it works, and the chemistry was flowing. In this case, the cast flowed perfectly. Reese, Nicole, Shailene and Laura played off each other beautifully. Then fitting in the rest of the cast filled in the puzzle pieces to make a beautiful picture.
I have a soft spot for Kathryn Newton from Supernatural, and it was fantastic to see her cast as Reese's daughter. The two of them look freakishly similar, and to see her get a shot here I hope will lead to big things for the future. Her character was a little tough to swallow sometimes, but she perfectly portrayed being an out of touch philanthropic teenager. I'll give her props though for the selling her virginity online to raise money for suffering refugees, it was definitely out of the box thinking.
Reese Witherspoon probably played my favorite character, though they all were great. But something about Madeline spoke to me more than the others. I related to the passion, the situations she found herself in, and the way she spoke the most. She says the things I think and don't say 90% of the time. I touch a lot on the females of the cast, but the supporting men were just as rich. Alexander Skarsgård and Nicole Kidman brought to life how a perfect picture on the outside can hide an ugly home life. And how hard it is to escape a dangerous situation. And Shailene's character brings both strength and vulnerability – you watch as she struggles with escaping a dark past and raising her son.
Like, Follow, Share, and Subscribe
Honestly, if you haven't watched this show you should. It'll make you cry, it'll make you laugh, and it'll make you cry some more. It will remind you that no matter the circumstances you can always find a way out. And that sometimes those you view as enemies will turn out to be your greatest allies. If you haven't caught this week's Youtube MaliceCast Podcast please do so and remember to like and subscribe. Please leave any thoughts about the above items below in the comments. Again, we thank you.
-SuperwhovianFreak Out -Contributor